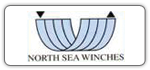 Introduction
North Sea Winches specialises in the bespoke design and manufacture of hydraulic and electric winches mainly for the marine and related industries. Typical applications include:-
Tugs, workboats, barges, multi-cats – anchor handling, towing and mooring winches with options on multi-drum configuration, level-wind spooling gear and remote controls.
Complementary range - anchor windlasses, tugger winches, cranes and capstans with applications in many marine installations
Civil Engineering – slipway winches, general purpose winches and capstans with electric or hydraulic drives typically for ports and harbours and water control projects
Hydraulic systems – full system design available with particular experience in marine installations. Winch systems can also be combined with equipment such as cranes and thrusters.
See us on stand 217 near the Fluid Power and Shipbuilding & Shiprepair Pavilions.